Mountain biking and road cycling have many similarities, but also have distinct differences. The clothing you wear for mountain biking or road biking has similarities and differences. Whatever type of biking you do, your three most important clothing considerations are safety, comfort, and weather-appropriateness.
Mountain biking includes off-road riding, from gentle towpaths through to steep ascents and descends. You can ride a full suspension mountain bike or hard-tail mountain bike, but your finest cycling clothing must be designed to ensure your safety and comfort. Most likely you won't be riding on smooth roads.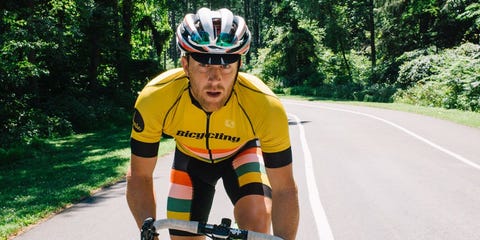 Mountain biking clothing should "breathe" and wick away sweat. Mountain biking is more a warm-weather sport so shorts and jerseys are the best choice. Popular are lightweight jerseys with storage pockets for sunblock sticks and energy bars.
Off-road bikers often prefer looser jerseys to those used for road riding. Your shorts must be comfortable and free from chafing. They should also have reinforcement at the inner and back of your thighs.
Mountain biking in cooler climates will still require moisture-wicking clothing. However, you'll also need weather protection and insulation. People prefer traditional, padded cycling shorts or baggy, padded shorts with a stretchy, padded liner.
Cold weather road riding can be dangerous. Your feet and hands are the first to feel the cold. You can keep your head warm by wearing a racing cap under your helmet, while gloves for cycling with padded palms can protect your hands and keep them warm.